Clients put their "best foot forward" in business and in the business of life with the empowering support of CENTER-COURT coach, Sandye Linnetz.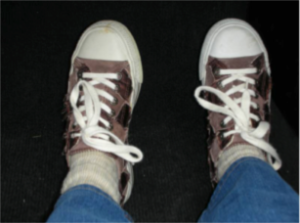 No more watching from the stands as your life plays out on the field ahead of you…You'll be out of your seat, into the action and totally immersed in the excitement of your own "custom designed" game of life.
Jump into center court, plan to win and start playing the game like what you do matters! IT DOES!
COACHING WITH SANDYE
Do you 'need' a coach? No, of course not… unless you want to
Be held accountable for getting the results you say you want!
Identify where you've been stopped and get on with it!
Get your mindset in line with your goals!
Wake up each day excited about what's in store for you!
Clean up all your relationships… especially that one with YOU!
Finally pinpoint and figure out where to find your ideal clients!
Make sales without selling!
Finally put those systems in place… the ones you've been talking about…
See 'obstacles' as interesting opportunities for growth and learning!
Earn more money!
Have more time to live the life you say you want!
And if I could show you EXACTLY how to do all this, would you be interested? Well, I can, so let's do this thing! My passion is to INSPIRE, MOTIVATE and ACTIVATE… and have FUN doing it.
Center Court Coaching
With Sandye Linnetz
We could give our coaching programs any number of different, clever names, but the truth is… all of our coaching programs are basically the same – well, except for the players and the field we play on…
The coach is the same – Sandye Linnetz – and the coaching techniques, exercises and assignments are 'consistently inconsistent'. Look, they have to be because each of you is different! You choose the 'game' and the set the goals. And then…
LET THE GAMES BEGIN!
 CHOOSE A CENTER COURT COACHING PACKAGE OR CREATE YOUR OWN:
(Here are some sample packages)
Around My Life in 90 Days (aka 90 Days of Awesome)
The Secret is in the Systems: Bringing Your Business To Breakthrough
When Being Out of Your Mind IS Mindset Coaching at its best
Kick Me In the Ask Coaching: Learning to ASK the right questions
I'm Stressed and Frustrated and I Don't Know What to Do
I Need a Tune-up
My FOCUS is OUT of FOCUS
My Life is (mostly) Amazing and I Want MORE
 This program is designed for serious, FUN-loving coaching clients who want to have consistent strategic, accountability and mindset support as they take their life or business (or both) on to the next level. Because this is private one-on-one coaching – designed with you, you will work intimately with Sandye to develop and implement your own (FUN~Easy~Simple~Profitable) game plan… and YOU WILL WIN!
During this 90-Day intensive program, you will experience:
Prep 'work': Before your first call you will have assignments to complete. They are designed to determine where you are now and clarify your needs and goals. To get the most out of your time with Sandye – who will personally review all pre-work – being honest and complete on this will prepare you for your Jumpstart Coaching Call.
One 60 Minute Jumpstart Planning /Coaching Call with Sandye: Need a mindset breakthrough? A cash infusion plan? To get some 'stuff' off your plate? Here you go! This is when we create the game plan and design the plays.
Six 30 Minute Follow Up Calls with Sandye (Calls must be completed within 90 days.): Momentum is critical and working intensively with Sandye twice per month will keep your game strong, on course and in FOCUS. Prepare for implementation to soar.
Digital Recording & Notes: After each call, you will receive both a recording of it and notes from Sandye listing your specific action items and commitments.
Private Email Access To Sandye: During your 90 days you will have access to Sandye's personal email – just in case.
90 Days of Center Court Coaching with Sandye
Choose Your Payment Plan
OPTION #1: Invest in full with one payment of $997 (save $200)
OPTION #2: Sign up for auto-pay of three equal monthly payments of $397 each
OPTION #3: Work with Sandye to create your own personal coaching program to meet your specific goals!
Use this form to Contact Sandye and get started!
Who Needs A Coach?
So often someone else can see what you we don't. Sometimes we can't… sometimes we just don't want to see. Either way, getting another point of view – seeing ourselves through the eyes of someone we trust – can be just what we need to get 'unstuck' or to get that extra push in the direction of our dreams.
When life is unfulfilling or goals are not being met, when we don't know where to turn or what to do next… or when life is good but that nagging feeling reminds us that it's not 'all it could be', it's time to find a coach. Sometimes there's a specific urgent problem to tackle and we're in overwhelm. Other times we know we're on the right track but we want to accelerate the game. And, of course, there are those times when we realize that we simply don't know HOW to do what we know needs to be done!
When I coach I listen first… Where are you NOW? Where do you want to BE? What results are you aiming for and… do you have a plan? It starts with a dream, an idea, a passion. Your coach works with you to identify and SPEAK it! Then comes the strategic planning – the big picture and then the specific steps to achieve the desired results. Now you have a plan. Time to implement. Your coach (assuming you've chosen wisely) is as invested in your success as you are. To that end, she or he now becomes your accountability coach. You have steps to follow and your coach will remind you that when you do what you said you would do, you get the results you said you wanted. Yes, sometimes re-working the steps is necessary, and your coach is right there to do that with you.
And then there's that 'thing' we call mindset. When you get stuck or blocked or frustrated or overwhelmed (and we all do now and then), your coach works the mindset magic and you get clarity and focus.
Can you save the money and do all of the planning, create the specific steps, implement them, hold yourself accountable and clear away the muck for yourself? Without investing in a coach? SURE you can… but, will you be able to do it all on your own? Do you really want to? Or, would you rather ease the pressure, invest in yourself and take an easier, faster route to success?
I choose having a coach… and I AM A COACH. My coach sees what I miss – that stuff that's so deeply ingrained in who I am; my old patterns and beliefs– and literally 'coaches' me over the hurdles. And that, my friends, is both so totally awesome and WHY I do what I do. I AM A COACH And… I HAVE A COACH and I'm glad. Everyone needs a coach!